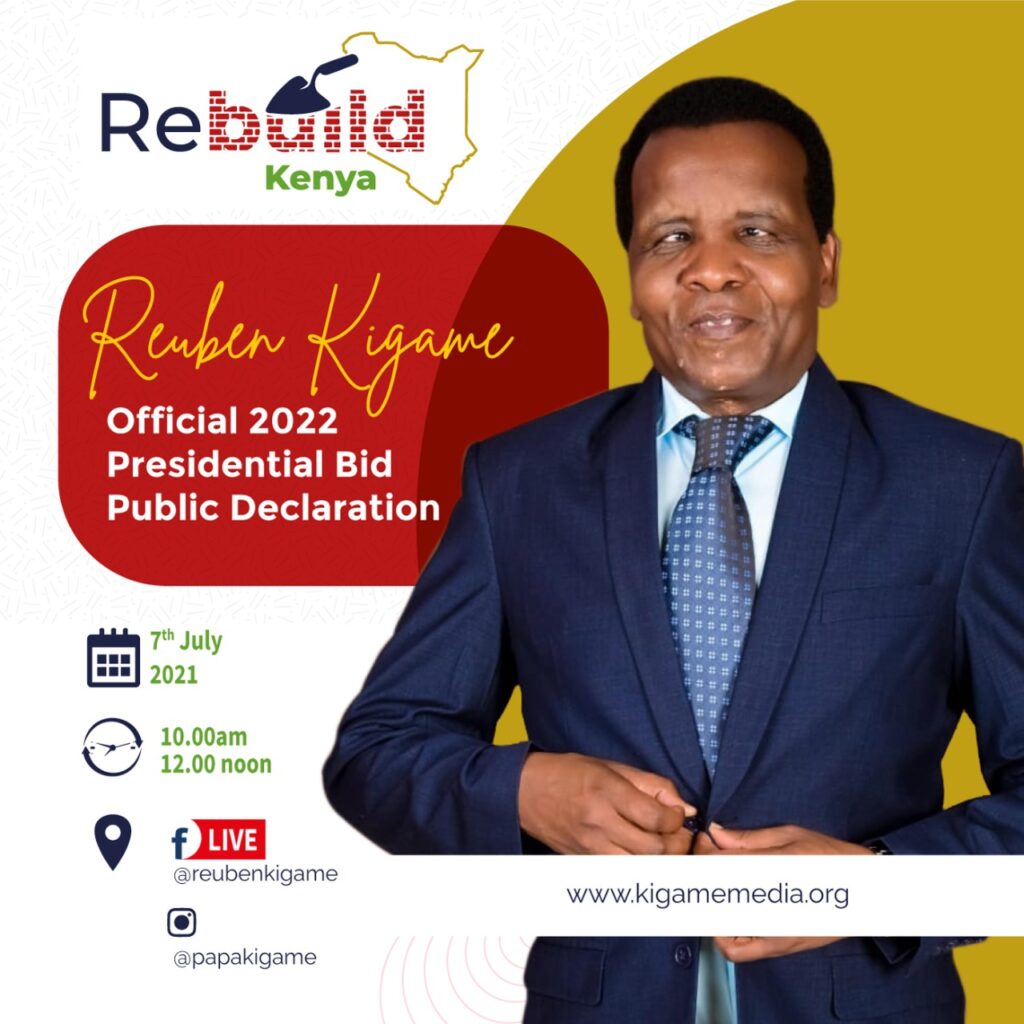 Distinguished guests, colleagues in media, youth, comrades living with disability, family and all citizens in Kenya and the diaspora, ladies and gentlemen, I salute you.
This should be a happy day for our country, but unfortunately we are having to hold this declaration here, having been denied the right to assemble at Chester House in solidarity with the founders of our Second Liberation. We were informed early this morning as we made our way to the venue that the police had instructions from above not to allow our meeting or any other on this day. Nevertheless, we will now proceed and make our public declaration.
This is a great day in Kenya's history because it marks the 31st commemoration of Saba Saba which gave birth to our second liberation. We look back in deep gratitude to those who pushed against the repression of our second government and gave us the democratic space that we now enjoy. But this year's Saba Saba day is unique in another way. Not only has Kenya regressed back to the repression of the first two governments under presidents Jomo Kenyatta and Daniel Moi, and sank into one of the most valueless societies on earth, but this year's Saba Saba marks the rise of efforts of tired citizens of Kenya launching a farewell message to a corrupt , inhumane and lawless government. On this Saba Saba day, we gather here to refuse the direction all previous governments but especially this current government, to destroy our beautiful country through tribal and ethnic politics, disobedience and disregard of the law, corruption, impunity and valuelessness.
Kenyans are tired. They are tired of being divided along ethnic lines and being used on the basis of slogans such as 'tyranny of numbers'. Kenyans are tired of being driven to the brink of ethnic conflict every 5 years. Kenyans are tired of false promises and financial handouts which buy them like slaves and reduce them to taxpayers without rights. Kenyans are tired of choosing MCAs, MPS, Women Reps, Governors and Senators to represent them, only for them to dine with and become puppets of the executive. Kenyans are tired of the existence of two kinds of law for the rich and for the poor – those under the constitution and those above it. Kenyans are tired of theft of their taxes and the government borrowing trillions of shillings without their consent and that of their children and without prioritization of projects. Kenyans are tired of scandal after scandal where known criminals and law breakers continue to occupy office or are simply released from government when caught. Kenyans are tired and fed up with the recycling of the same leaders that have brought us to this mess. That is why this Saba Saba day is different.
As Kenyans we are saying, enough is enough. Enough of negative ethnicity. Enough of the same old leaders and style of governance. Enough of thieves and looters of our economy. Enough of Eurobonds, laptop and KEMSA billionaires. Enough of being told 'no political rallies so we can contain covid' only for the same leaders to bring the pandemic to the people and get foreign funding to loot. Enough of being given expressways and SGRs instead of water, irrigation, fertilizers and jobs for the youth. Enough of borrowing and public debts to be paid by us and our children. Enough of condemning our youth to hopelessness through exams without enough schools and colleges. Enough of ignoring our women, children and persons living with disability. Enough of teaching our children and youth the bad values of shortcuts and materialism. Enough of the promotion of godlessness and indecency. Enough of fist fights at funerals and the throwing of chairs at each other in parliament. We want our country back.
It has been easy for our leaders to ignore us and how destroyed our beautiful country is, but not any more. Those in power today imagine that they are the only ones entitled to present themselves to the people of Kenya for elective positions of leadership. It has been imagined that the only way to get into leadership is to bribe citizens or amass billions and in order to get into leadership. It has been imagined that Kenya is for a few who can simply get into office by using money, helicopters and crowds in order to win the allegiance of citizens. I wish to announce that this way of doing politics has come to an end. From today, the 7th of July or Saba Saba day 2021, an alternative way of giving Kenya the leadership they want has been born. A different way of doing things is now here. Another voice that speaks on behalf of Kenyans is now available. A new way of looking at this country is here. From today as citizens of Kenya, we take our country back to rebuild Kenya for ourselves and our children. We start to rebuild the broken walls of truth, freedom, justice, equality, love, unity, patriotism, accountability and the rule of law for all.
It is a shame that 58 years after independence, we are still talking about eradicating the three big enemies of Kenya, i.e. poverty, ignorance and disease. What Kenyans do not realize is that, besides these three, we have been added a fourth enemy: corruption and impunity. 58 years after independence, a woman in Kisauni boils stones for her children as food. 58 years later, we are still dealing with land injustices, tribalism and elections based on tribal alliances. 58 years later, several Kenyans who fought for independence cannot put food on the table or find treatment in hospital. 58 years later, we are still colonized by our own brothers and sisters.
The Jubilee administration has had the most disastrous performance record. As a country we are at the verge of collapse. The social, economic and political fabric needs an urgent and necessary salvage lest things would fall apart. For instance, the economy is on its knees as we continue to borrow beyond what future generations will have capacity to pay. With an undeserved national debt of about 9 trillion shillings, one can get the gist of what the money is being used on a typical day. The country's chief executive has owned up that the country loses 2 billion shillings every day to corruption and outright theft. The president's confession helps us reflect on the scandals that have rocked the Jubilee administration such as the Laptop scandal; Eurobond; the incommunicado characterizing the spending on the SGR project; NYS 1 and 2 coupled with disregard of evidence that is in the public domain; the 'no money was spent' Aror and Kimwarer white elephant projects; the Kenya Power 'dark' token and generator scandals; the 'COVID 19' KEMSA assisted billionaires, just to mention but a few. With all these scandals, how do we go ahead and endorse the 2020-2021 National Budget that runs to 3.62 trillion shillings, yet we can only marshal about 1.6 trillion, the government went ahead to make a budget of 3.62 trillion shillings?
A while ago, Jubilee administration came up with the BIG four agenda of food security, manufacturing, universal health and housing (all which were not so new but a repackaged look at the basic human rights) seemed the first stab at the solution of the pre-independence challenges. Yet, the fact that these efforts did not go beyond paper was testament enough that no one in this administration really cares about this country. In short, we are truly on our own.
It is with this in mind that I announce the official start of my journey to become Kenya's 5th president on this 7th day of July, 2021 in deep and solemn symbolism of what the day stands for in Kenya's history, but also because my faith informs me that 7 is God's number of perfection. Although I will call you all for the announcement of several important things in my journey such as my running mate and political vehicle to be used as well as Manifesto, allow me to close by painting for you what I am certain a Reuben Kigame presidency will do for Kenyans that none of my competitors may be willing to do for you:
First, from day 1 I will deliver the first unity government that is shared by all communities in Kenya through government appointments and fight the dragon of negative ethnicity because I have never known what it is to be ethnic myself.
Second, from day 1 I will embark on zero-tolerance to corruption and impunity, careless borrowing and the reward of those who expose proven graft. I will fight for the restoration of values in government and the private sector informed by true godliness and the rule of law. In this regard, you can be sure of my allegiance to the defense of the Constitution at all times. The family will be defended under my leadership and good manners promoted right from public discourse to the home, the road and the office.
Third, I will endeavor to wipe out food insecurity in five years of being in office. This I will do through the development and expansion of agriculture, export and industrialization.
Fourth, I will work on improving our health sector by prioritizing prevention of disease and domesticating research and health solutions, hiring more health workers, building more health facilities and making sure all citizens are under health insurance regardless of economic status. I will particularly pay attention to institutions like KEMRI giving us localized solutions to our medical challenges and nationalize the health sector for better management.
Fifth, I will work towards the improvement of our economy by re-evaluating all government projects to ensure we focus only on projects that improve the lives of Kenyans. I would stop all local borrowing by government so that citizens can have more access to capital, reschedule our national debts and, most importantly, ensure we live within our means with regard to budgets. I would do a forensic audit of government departments, merge the mergeable and scrap the scrappable. I would then bring down and simplify the taxation system with the help of experts who are already attached to me and expand the tax revenue sources. I would make energy cheaper to attract industrial investment and business, revive dead industries like sugar, cotton, cement, paper, refinery, and work towards value addition to our products through partnership with county governments, etc. I would concentrate development in marginalized areas and develop good relations with our neighbours to open up the regional market.
Sixth, I will embark on a robust environmental improvement of our country by making Kenya the greenest country in Eastern Africa, improve water sufficiency and cleanliness. I would expand solar power, biogas and other alternative energy sources and make our rivers and lakes clean again.
Seventh, I would improve education by building more schools, creating partnership between public and private institutions and ensure all qualified teachers are hired. I would review even the CBC curriculum one more time to ensure that it is practical but also relevant. I would insist on the importance of value training right from kindergarten and eventually work towards education being free all the way to Form 4. I would give university students laptops instead of primary school PUPILS BUT ENSURE THAT THERE ARE COMPUTER AND OTHER LABS IN EVERY SCHOOL POSSIBLE.
Last but not least, with Kenya comprising nearly 70 per cent youth, I would redirect the bulk of government funding to youth empowerment and protection including rehabilitation of street children, those caught up in drug and substance abuse, guidance and counseling among other programmes. I would ensure affordable credit for those leaving college to invest and innovate, develop diverse talents and gifts, improve sports, pay attention to making homes and institutions safer for our children and providing career training and exchange programmes between Kenya and other countries. I would build more middle level colleges and minimize testing via national exams at primary school level to reduce youth dropping out of school at an early age. I would form county youth centres for career and talent development in conjunction with county governments. I would work with the youth to develop talents such as sports, music, theatre, innovation, etc.
There is a lot to say, and we will say it, but allow me to conclude by asking you to join me on the journey to rebuild a better Kenya. Encourage me by supporting me to be your next president. Allow me to carry and work towards the realization of the dreams of every child in her mother's womb, primary and secondary schoolgoer and everyone living under poverty, disability or discrimination for a better country, a better home. Instead of putting your hope for a better Kenya in the same people who have brought us to where we are, join me in rebuilding the Kenya our forefathers dreamed of and died for. Support me in being your candidate of hope. Allow me to be your singing president. Allow me to show the world what it means for a country to be inclusive for all its citizens. Fund me, vote for me, and persuade all your family members, your colleagues and friends to try something fresh; something new; someone fresh; someone new. It is time to rebuild Kenya. Let one and all arise, in common bond united, build this our nation together.
As one of my songs says, I say to you, there is hope for every Kenyan:
Lipo Tumaini
Kwa mti ol'okatwa
Maana ukikatwa
Utachipuka tena.
God bless you and God bless Kenya!